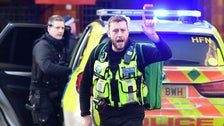 A terrorist wielding a knife killed two people near London Bridge on Friday afternoon before he was shot dead by British police.
Metropolitan Police said that the attacker injured multiple people before he died, in an attack that Scotland Yard is calling a "terror incident." Two people are dead, and three more remain in the hospital, Metropolitan Police Commissioner Cressida Dick said.
Heroic passersby were seen grappling the suspect to the ground and disarming him before officers arrived on scene.
Speaking at a press conference on Friday evening, Dick added: "I also want to thank the members of the public who have helped, either by showing extraordinary courage by stepping in to tackle this attacker or by following the instructions they have subsequently been given by officers at the scene and in the area."
She said officers were working at "full tilt to understand what has happened and whether anyone else was involved. … For this reason we expect cordons to remain in place around the London Bridge area for some time."
Police were called at 1:58pm to a stabbing at premises near to London Bridge.

Emergency services attended, including officers from the Met and @CityPolice.

A man has been detained by police. We believe a number of people have been injured. Further info to follow.

— Metropolitan Police (@metpoliceuk) November 29, 2019
Scores of people were seen running down St Thomas' Street as the incident unfolded.
A video from the scene shows what appears to be police pulling equipment out of a vehicle nearby.
Those in the video can be heard saying: "They've actually got guns out. They've got the guns out."
HuffPost UK saw police escorting people in Fishmongers Company uniforms out of a building, one "covered in" what was believed to be in someone else's blood.
A staff member from the company told us he had seen an attacker with a "big knife" and that someone inside the building had been injured.
Unverified footage — apparently taken just outside the building — shows officers grappling with someone, and a man in a suit emerging moments later holding what appears to be a blade.
It is not yet clear where the incident started. An area stretching from London Bridge to Cannon Street is now cordoned off.
BBC footage from the scene shows officers and sniffer dogs investigating a large white lorry parked across three lanes of the road.
In a tweet, Prime Minister Boris Johnson said he was being kept updated on the incident.
Labour leader Jeremy Corbyn said: "Shocking reports from London Bridge. My thoughts are with those caught up in the incident. Thank you to the police and emergency services who are responding."
Meanwhile, London mayor Sadiq Khan said: "Thank you to our brave emergency services who responded to today's horrific attack. Every day they put their lives on the line for us – running towards danger in order to keep London safe."